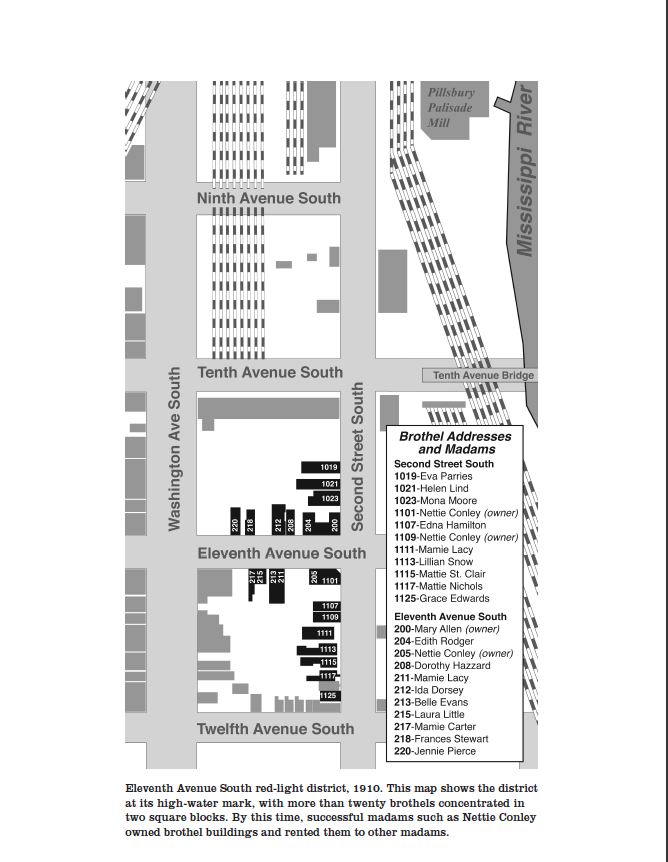 It's map Monday. This map shows the Minneapolis brothel district in 1910, as described by Penny Petersen in her book, Minneapolis Madams. Penny–who works as a researcher for a Minneapolis-based historical consultant–is our guest blogger today, with a post that remembers the notorious madam known as Mattie St. Clair. 
Mattie St. Clair was a successful sex worker with a career that began in the 1870s and spanned three decades during Minneapolis's era of tolerated prostitution. Over the course of her professional life, she rose from being a "boarder" in various bordellos to that of a madam.
Like most sex workers, she had several known identities: Mattie/Matilda St. Clair, Matilda/Mattie Sinclair, Amanda Coine, and Amanda Nichol. Likely, none of these were her real name. In 1905 St. Clair told the census taker that she had lived in the state for 15 years and was born in Maine 35 years earlier. Had this statement been true, she would have been nine years old when she was working for Main Street madam Nettie Conley in 1879.
The newspapers enjoyed reporting on her adventures. She was among a group of madams who went to court in December, 1886. According to the St. Paul Globe, the women "attracted considerable attention, but seemed entirely unaffected by the glances cast at them. They were all dressed in the height of fashion and all but one or two treated the whole matter as a big joke to be smiled at and dismissed. Mattie Sinclair was the first one to be called up. She was given until Dec. 14 and placed under bonds of $500."
St. Clair also made headlines when she went to recover jewelry she had pawned. As one newspaper told the story "the central figures in the drama were Mrs. Amanda Nichol, otherwise known as Mattie St. Clair. It appears that she owned a pair of diamond solitaire earrings, which were held by [W. H.] Harris as collateral for a loan of several hundred dollars." St. Clair had a writ of replevin in hand when she, her attorney, and a policeman went to Harris to recover the diamonds. "Harris produced the sparks and the woman grabbed them eagerly, at the same time yelling for the officer." After a struggle with Harris, Mattie broke away and "taking advantage of the lull, ran out the rear balcony and jumped to the ground," escaping with the jewels.
In 1903, St. Clair moved her brothel to 1115 South Second Street. This was the heart of the Eleventh Avenue red-light district, a two block area with twenty brothels. Although the district was shuttered by the city in 1910, St. Clair continued working until her arrest in 1911, when she seemed to disappear from the newspapers, city directories, and Minneapolis history.
This map was created by Ted Tucker for Petersen's book, Minneapolis Madams: The Lost History of Prostitution on the Riverfront (University of Minnesota, 2013).
Comments
comments