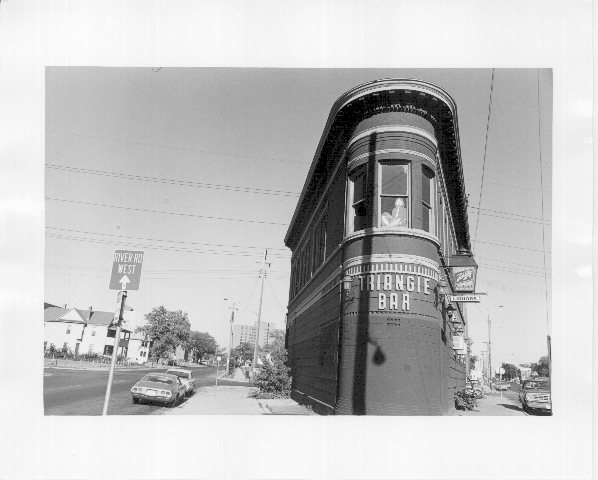 Today's blogger is Heidi Heller. She is a senior history major at Augsburg College and an intern with the Historyapolis Project.
As we continue to hear debate in the current Minnesota Legislature over Sunday liquor sales, it's easy to forget that just over 80 years ago Minnesotans were celebrating the fact that liquor sales of any type were again legal after 13 years under prohibition. By 1933, legal liquor once again flowed in cities and towns around the country as Congress repealed prohibition and the states ratified the 21st Amendment. Minneapolis was back in the business of trying to control liquor consumption and sales by issuing liquor license to various proprietors who were eager to begin serving thirsty customers. By 1934, numerous liquor licenses had been received by the city and many of these liquor licenses applications were recently uncovered in the tower archives at Minneapolis City Hall.
Among the more interesting applications discovered were two for Frank Ojile. According to the applications, Mr. Ojile – an immigrant from Syria and a former professional wrestler, turned hopeful restaurant proprietor – was seeking a license for the business he ran at 628 Central Ave NE. His first application in May was denied likely due to delinquent property taxes. His second application in October also was denied – the reason for this denial is unclear leaving one to speculate what criteria the city used in issuing licenses. However by 1939, Mr. Ojile does appear to have gotten into the liquor business. The Minneapolis Directory lists him as selling beverages in the Triangle Bar located at 1822 Riverside Ave, where he continued to work until his death in September 1945.
While Frank Ojile may not have been successful in his initial liquor applications, many other individuals were. Minneapolis issued 1300 on sale beer licenses within a year of Congress's legalization of 3.2 beer or weak beer in April 1933. Along with these licenses came certain restrictions including no liquor sales on Sunday, taverns had to close between 1am and 6am and no curtains, blinds or screens were permitted in on sale places. These restrictions did little to slow down licensees seeking to meet the public's pent up demand for liquor. By 1935, there were 3500 on and off sale beer locations within the liquor patrol limits and 2200 locations outside of the limits.
By January 1934, all liquor, not just 3.2 beer was legalized and Minneapolis restored the previous liquor patrol limits and placed other restrictions on licensees in an attempt to control liquor just as it had done prior to prohibition. The city prohibited all liquor sales in public dance halls where dancing was the "principal feature." Public bars were prohibited and liquor could only be served to seated customers. Also, restrictions were put in place that prohibited any establishment from selling liquor within 200 feet of a school.
Cities were not the only ones placing restrictions on liquor sales after prohibition, the state of Minnesota established a three-step system designed to prevent anyone group from having too much influence or control over liquor sales and resulting profits. The system divided manufacturers, wholesalers and retailers into three tiers. For the most part this three tier system remains in place today and continues to create much debate as specialty breweries and distillers not only manufacture, but seek to distribute and serve as retail outlets for their products.
Images from the Hennepin County Central Library and Minneapolis City Archives. Material for this post is taken from Jim Hathaway, "The Liquor Patrol Limits of Minneapolis," Hennepin History, Fall 1985, 8-10. Patrick McCormack, "Minnesota's Three-Tier System of Liquor Regulation," House Research: Short Subjects, June 2008, Penny A. Petersen and Charlene K. Roise, A History of the Triangle Bar Building, November 2010, Davison's Minneapolis City Directory, 1939 (Minneapolis: Minneapolis Directory Company, 1939), 1043.
Comments
comments