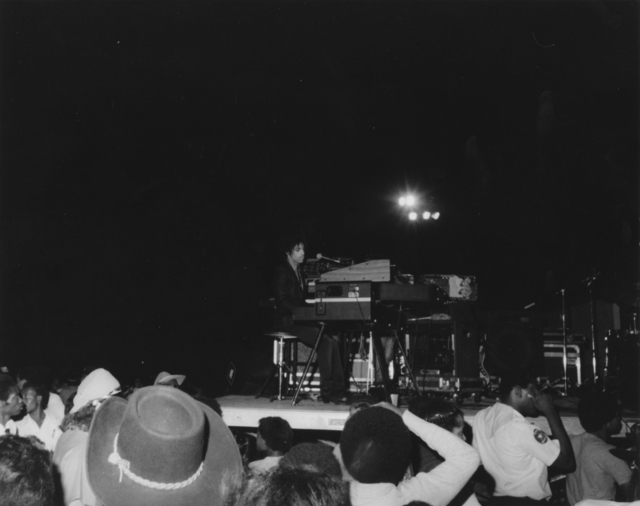 The premiere of the film, "Purple Rain," thirty years ago was a major cultural milestone for Minneapolis. Listen here to this wonderful conversation between Minneapolis native Michele Norris and National Public Radio television correspondent Eric Deggans about the film–and its legacy for music, the city and the world. Norris–who is related to musician Mark Brown–calls the film "a love letter to Minneapolis."
This image–by local photographer Charles Chamblis, who chronicled the African-American community in Minneapolis during the years dominated by the "Minneapolis Sound"–may show Prince delivering a far more intimate "love letter" to the part of the city that nurtured him when he was most vulnerable. The photograph–from the collections of the Minnesota Historical Society–shows Prince playing in 1985 at a street festival sponsored by Phyllis Wheatley House, the North Side settlement house that has nurtured generations of young people and served as a safe haven in the city for African-American visitors. Taken one year after the release of the film that made him internationally famous, this photograph illuminates the North Side roots of the man most associated in the public imagination with First Avenue downtown.
With this performance, Prince was following the footsteps of musical legends. Established in 1924, the Phyllis Wheatley House moved into a new building in 1929 that included 18 bedrooms for travelers.While Prince was a native son of the North Side, the Wheatley House played host to visiting luminaries like singers Paul Robeson and Marian Anderson, who could not finding lodging in downtown Minneapolis during the Jim Crow years.  All of these singers repaid the hospitality they enjoyed at the Wheatley House by sharing their music with the families connected to this critical North Side community institution.
Comments
comments