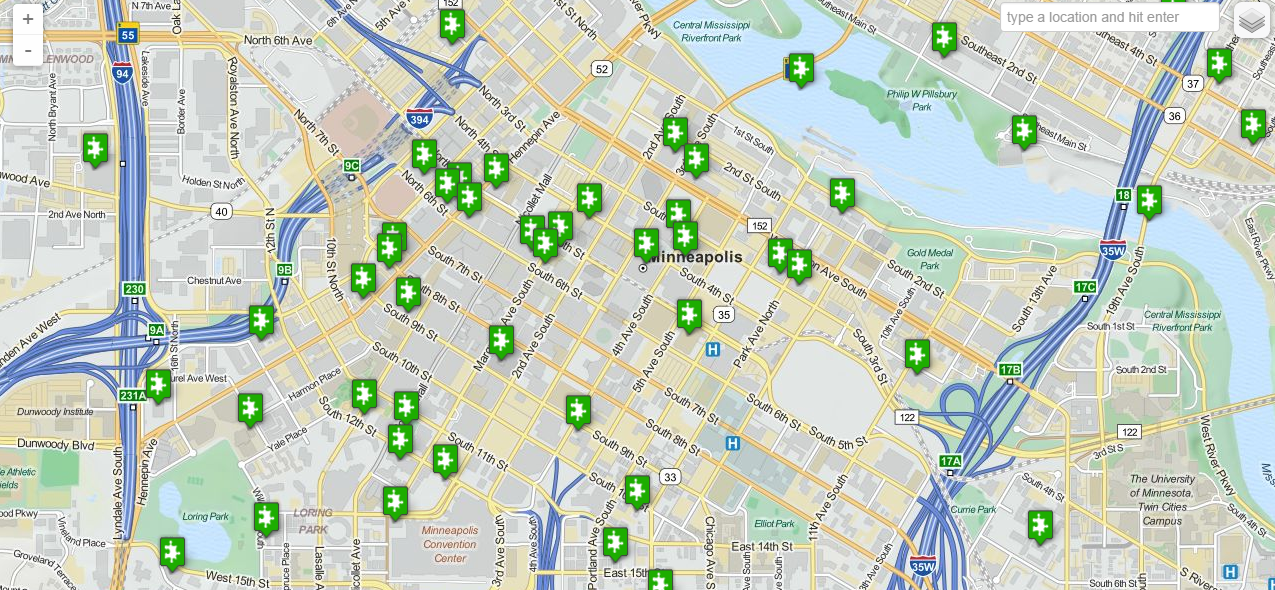 It's map Monday. Today I'm sharing both a map and a challenge. This map was created by Wikipedia as part of its "Summer of Monuments" campaign, to improve coverage of U.S. historic sites on this important reference site. Zoom on this interactive portal and you will see every place in Minneapolis that is listed on the National Register for Historic Properties.
Wikpedia created this map as part of its effort to better illustrate that landscape of history in the United States. The online encyclopedia is calling on readers to contribute photos of historic sites, which will be used to improve its reference articles. Entries are due by September 30th. Cash prizes will be given for the best photos uploaded. For more information, read here.
The past becomes tangible through visits to sites of history. This "Summer of Monuments" campaign recognizes this power of place, seeking to build a bridge between the digital and the physical.
Of course, Minneapolis has had a long love affair with the bulldozer. As a result, we have relatively little of our original streetscape left. And preservation has been governed by the prejudices of race and class. As in most places, the lavish homes of the wealthy and well-connected in Minneapolis are well-represented on the National Register. Harder to find in the landscape of historic preservation are the stories that challenge our collective sense that Minneapolis has always been a prosperous, tolerant and innovative community.  People outside of the power structure are frequently obscured in this set of sources, which is dominated by beautiful architecture.
But there are notable exceptions to this rule, thanks to some far-sighted preservationists. In Minneapolis the National Register includes the working-class homes of Milwaukee Avenue; it lists the maternity hospital established in the late nineteenth century by pioneering physician and suffragist Martha Ripley; it names the home of African-American lawyer and civil rights activist Lena Olive Smith; most recently it incorporated the Lee family home, which was the target of an ugly race riot in the 1930s.  It also recognizes the Pioneer and Soldiers Cemetery, the oldest burying ground in the city. Open to people of all races and economic backgrounds during its 70 years of operation, this graveyard provides a wonderful introduction to the complex, multi-cultural history of the early city. Its headstones mark the final resting place for plutocrats and paupers, African Americans and new immigrants; the remains of 20,000 people were interred within its boundaries at the intersection of Lake Street and Cedar Avenue.
But none of these important sites have artful photographs to accompany their reference articles on Wikipedia. Contrast the image of the Smith house with that of the Purcell-Cutts mansion on Lake of the Isles–which is now owned by the Minneapolis Institute of Arts–and it's obvious that race and class continue to shape how we present the history of our community.
I'll close this entry with a call for help. Minneapolis is a town full of artists and creative types. Can we tap into this talent to improve our collective understanding of the past? Can you help us to document the full diversity of the city's history? Can we show the world how cool our history is here?
Please let me know if you decide to contribute a photo.
Comments
comments