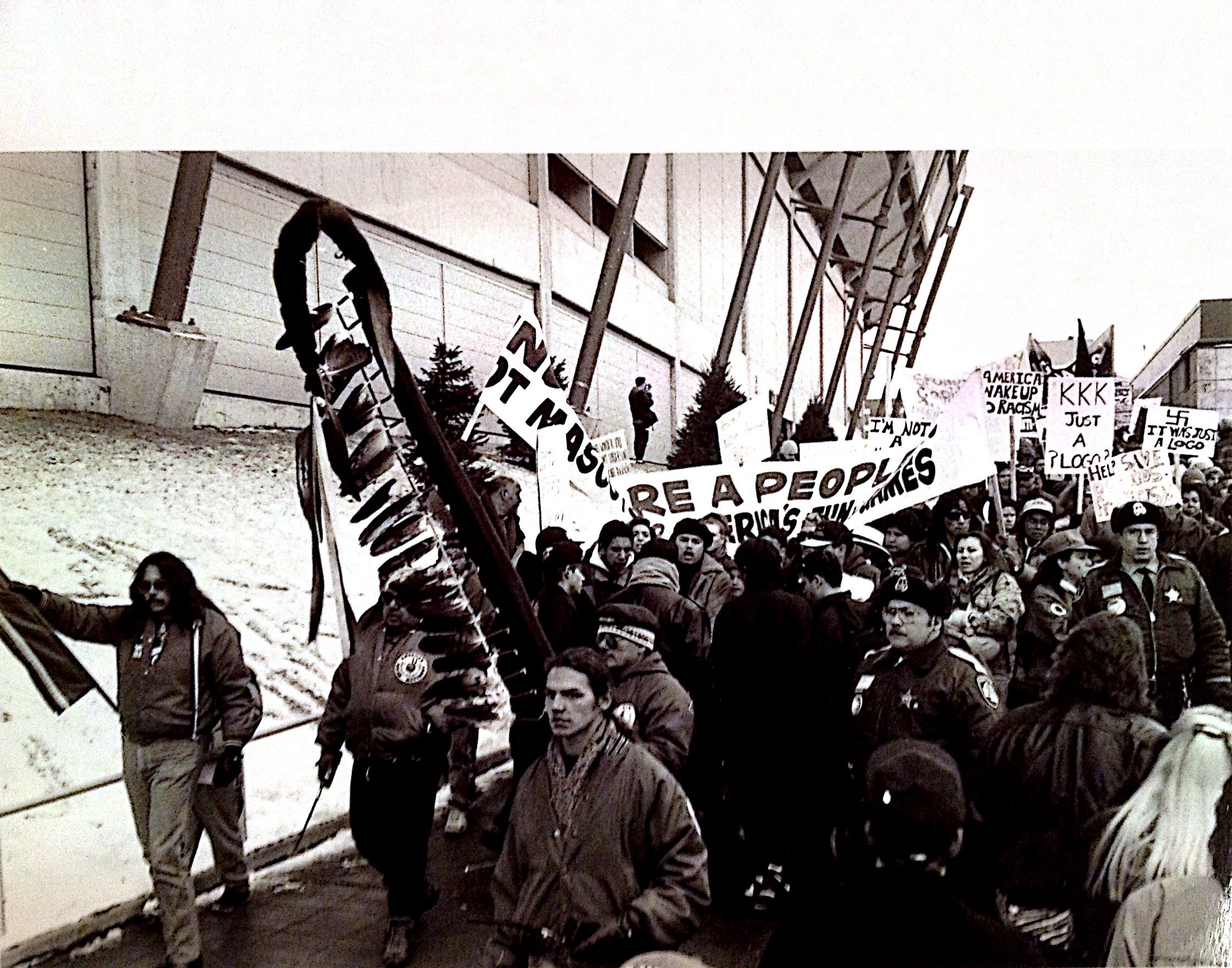 Protesters have organized a "No Honor in Racism Rally" for Sunday morning. The goal of this demonstration is to draw attention to longstanding demands that the Washington football team drop its "Redskins" moniker, which many see as as racist and derogatory caricature of Native Americans. Marchers will gather at Northrup Plaza at 9 am for a march down University Avenue. The plan is to rally outside of TCF Bank stadium, where the football team from the nation's capital will be facing off against the Vikings.
Minneapolis has long been a center for efforts to purge racist imagery from organized sports. As a sportswriter familiar with the city explained, the community "is ground zero for the Native American civil rights movement and the American Indian Movement going back to the 1960s."
In 1991, protesters rallied outside the Metrodome during the World Series match-up between the Twins and the Atlanta Braves to draw attention both to the team's name and the way that fans used the "Tomahawk Chop" during games. The next year, marchers again massed outside of the Metrodome in downtown Minneapolis as the Redskins squared off against the Buffalo Bills. Senator Paul Wellstone was one of the speakers to address the crowd of 3,000.
The debates over Indian imagery have been more intense in the realm of high school and college athletics. The University of North Dakota has defied sanctions and long-standing protests to retain its "Fighting Sioux" mascot. This controversy has pitted prominent university alumni, sports fans, donors and athletic leaders against hundreds of Native American groups and their supporters.
Here in Minneapolis, Southwest High School was the center of a more subdued discussion in the late 1980s. A parent named Phil St John formed a group called Concerned American Indian Parents after seeing white fans pretend to be wild Indian warriors at at a school basketball game. St. John enlisted a Minneapolis advertising agency to make a poster that juxtaposed fictitious pennants from the San Diego Caucasians and the Kansas City Jews next to a a real pennant from the Cleveland Indians. This poster–and his larger campaign–drove home the dangers of ethnic and racial stereotyping. The Minneapolis School Board responded by passing a resolution banning nicknames that perpetuated racial or ethnic stereotypes. In 1987, the Southwest Indians became the Southwest Lakers. 
This photo by Debra Lyneis is from the collection of the Hennepin History Museum. It shows the protest outside of the Metrodome in January,1992.
Comments
comments