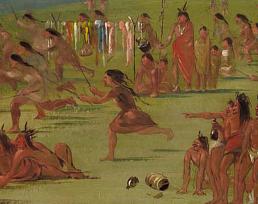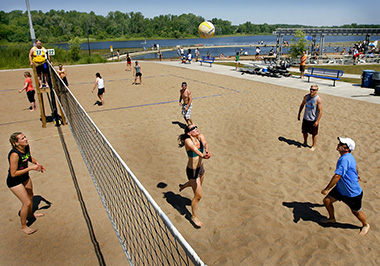 The shores of the lake we now know as Calhoun have always been the site of play.
In August, 1834, a missionary named Samuel Pond wrote his first letter to his mother from his new home on the banks of this lake in the northern interior. He had just completed a rough cabin, intending to take up residence in the thriving Dakota village that had been established near Fort Snelling as an agricultural experiment. He may have expected more solitude. But his new neighbors were busy at work around him. "One Indian has been here to borrow my axe, another to have me help him split a stick; another now interrupts me to borrow my hatchet; another has been here after a trap which he left with me; another is now before my window at work with his axe, while the women and children are screaming to drive the blackbirds from their corn," he reported. "Again I am interrupted by one who tells me that the Indians are going to play ball near our house to-day. Hundreds assemble on such occasions."
Pond hoped to use this gathering as the opportunity to deliver the gospel for the first time. I am imagining the reaction of the players pictured here, as a young and earnest missionary tried to interrupt this intense competition with his important message. This painting by George Catlin depicts the type of ball game Pond would have seen. The match shown here was played by women in nearby Prairie du Chien in 1835.
The contemporary photo is from the Minneapolis Park and Recreation Board. The historic painting is from the collection of the Smithsonian Museum of American Art.
Comments
comments