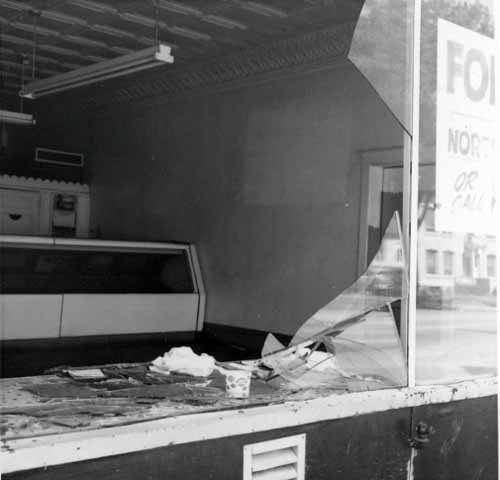 Early yesterday police cleared away the Black Lives Matter encampment at the Fourth Precinct station. This occupation–which following the police shooting death of Jamar Clark on November 15th–has focused the eyes of the city on this stretch of Plymouth Avenue North.
Fifty years ago, this same block was the site of violent urban unrest. The grievances of this earlier era were remarkably similar. And this uprising prompted an outpouring of effort from business, community and political leaders.
Yet despite decades of work, many activists from this earlier era feel less than sanguine our collective progress towards social justice in the intervening years. According to Spike Moss, who was a young leader on the near North Side in the late 1960s, "we're still fighting for our basic rights in this city, this state and this country."
The question for the young demonstrators of 2015 is how this moment will be different from 1967. Will it be any easier this time to translate direct action into lasting social change? Is Minneapolis more prepared to hear the grievances of African-American activists? And have we as a community built structures that can address the disparities that have governed life in the city for the last century?
Returning to the past helps us chart our way forward. Our current struggles are shaped by painful memories from these earlier conflicts, which have never been fully acknowledged as significant to the city's history.
On the night of August 2, 1966, a group of fifty teenagers on their way home from the annual Northside picnic destroyed a string of businesses. This was the start of a year of violent conflict on the near North Side that ended approximately one year later, after 600 members of the National Guard were deployed to keep the peace on Plymouth Avenue. Most white Minneapolitans call this episode the "Plymouth Avenue riots." But in the neighborhood's African-American community it is remembered as the Plymouth Avenue rebellion.
The young people who took to the streets on the near North Side in 1966 and 1967 saw looting and arson as political acts. At least some defended their attacks (in diatribes infused with anti-Semitism) on neighborhood businesses, accusing local merchants of "selling Negroes those third class meats at first class prices." A small number of protesters reveled in incendiary rhetoric of the era, declaring that "this is the time to let the blood run into the street like its supposed to. Plymouth Avenue is gonna burn." Others sought to channel these revolutionary impulses into the development of alternative institutions. One group– led by Syl Davis–took over a city-owned building on Plymouth Avenue. They established The Way, a community center that sought "calm the neighborhood by providing an off-the-street facility for youth and a meeting place for residents."
Anger and frustration were the underlying cause of this unrest. "The primary issue in Minneapolis is not the jobs, or the police or housing or anything like this," civil rights organizer John S. Hampton declared, after visiting the city in the immediate aftermath of the violence. "It's simply the hostility, the fear, frustration and the feeling of powerlessness which black people feel in an alien white society. . .People start feeling like they're living in an occupied country."
"Our cities are racist," Syl Davis asserted in 1967. "The city is more like a prison. . .The black man just doesn't want to be a social nigger anymore, brain washed with promises and folksy talk about pulling yourself up with your bootstraps."
Three years earlier, the city's first Jewish mayor had came into office pledging to address yawning racial disparities. "A fire of protest against indignity and denial is burning here," Arthur Naftalin declared in his inaugural speech. Much like our current mayor Betsy Hodges, Naftalin made racial justice central to his political agenda, allying himself with a national coalition of politicians determined to advance the cause of civil rights in northern cities.
Yet when Naftalin took office, Minneapolis was certainly not known as a hotbed for civil rights activism, through many  of its residents had participated in the freedom struggle in the south. The city perceived itself as a oasis of racial harmony in a troubled nation, a community that had worked hard to ensure equal opportunity. It was a "city where civil rights ferment had largely been confined to the moderate climate of committee rooms," according to Gerald Vizenor, a Native American writer and keen observer of the city's racial climate. A city commission later concluded that "many people in Minneapolis feel that our 'negro or slum problem' is not serious."
This civic ideal was fundamentally challenged by the unrest on Plymouth Avenue.
The mayor responded immediately, leaving the committee room for the streets. On August 3, Naftalin called on residents of the near North Side to meet him at Lovell Square, half a mile from the epicenter of the property destruction on Plymouth Avenue. He promised to keep the police out of the park. Accompanied by Governor Rolsvaag, Naftalin listened as young activists shared their frustrations and tales of discrimination; the two politicians watched young firebrands argue with established civil rights leaders.
I believe that this clip from KSTP shows this meeting, though the date is not really clear.
The footage showed Naftalin promising to provide jobs, immediately. It doesn't show what came later. In the months that followed, Naftalin worked with a host of local leaders like Harry Davis and T. Williams to establish the Urban Coalition, which sought to address disparities in schools, police protection, recreational facilities and economic opportunities. The mayor tried to convince residents of the near North Side that city leaders had a genuine commitment to positive change. "I believe we can make a model city out of Minneapolis," he asserted. "We're going to change this system, by working together."
Yet it seems that most white Minneapolitans remained unmoved by either the North Side youths or their passionate mayor. Most residents never saw the violence of 1966 and 1967 as legitimate political protest. The fiery rhetoric of the young protesters did little to shake their faith that they already lived in a model metropolis.
Instead, most of the city embraced the narrative advanced by the city's police federation, which was articulated by the police officer interviewed on camera for this news report. "In my estimation," he asserted, this was "completely a case of looting and thievery and vandalism." The unrest on the North Side, in other words, was wanton lawlessness; protesters were no better than criminals.
Naftalin and his allies were caught in the polarizing politics of the time, buffeted between impatient young people and a reactionary police federation that refused to remain silent about their disdain for self-proclaimed revolutionaries.
And when the liberal mayor retired in 1969, Minneapolis voters appeared to reject his civil rights agenda. They elected political neophyte Charlie Stenvig, a police detective and member of the police federation who campaigned on a law-and-order platform and a pledge to get tough on young lawbreakers.
In addition to fighting efforts to integrate the Minneapolis public schools, Stenvig did his best to gut the civil rights initiatives established by his predecessor. This included appointing Tony Felicetta to the Minneapolis Human Relations Committee. The city commissioner–who was charged with protecting civil rights in the city–famously told the Minneapolis Tribune: "I talk with colored people a lot," he said, "with the elevator operators, the shoeshiners and in the parking lots, and do you know what they say? They don't buy all this (militant) crap."
Perhaps if Minneapolitans had listened more carefully to the "militant crap" of the 1960s, Plymouth Avenue North might look different today. Contemporary Minneapolitans have the opportunity to learn from these difficult episodes from the past. We may never achieve the "model metropolis" envisioned by so many generations of city leaders. But at least we can get a better sense of of what we might need to do to realize this civic ideal.
Sources for this post include:
Image shows the aftermath of the violence on Plymouth Avenue and is from the collection of the Minnesota Historical Society. KSTP. Footage from Plymouth Avenue, 1966. Accessed September 19, 2012. http://collections.mnhs.org/cms/largerimage.php?irn=10269010&catirn=10463530; "How Syl Davis Sees It: An Interview with Gerald Vizenor." Twin Citian Magazine, October 1967; Gerald Vizenor. "1966: Plymouth Avenue Is Going to Burn." Twin Citian, October 1966; Camille Maddox. "The Way Opportunities Unlimited Inc.':  A Movement for Black Equality in Minneapolis, MN 1966-1970." BA thesis, Emory University, 2013; Iric Nathanson. Minneapolis in the Twentieth Century: The Growth of an American City. Saint Paul, MN: Minnesota Historical Society Press, 2010; W. Harry Davis. Overcoming: The Autobiography of W. Harry Davis. 1st ed. Afton, Minn: Afton Historical Society Press, 2002; Jeffrey T Manuel and Andrew Urban. "'You Can't Legislate the Heart': Minneapolis Mayor Charles Stenvig and the Politics of Law and Order." American Studies 49, no. 3 (2010): 195–219; Jack Miller, "New Rights Official Speaks His Mind," Minneapolis Tribune, September 15, 1969.
Comments
comments