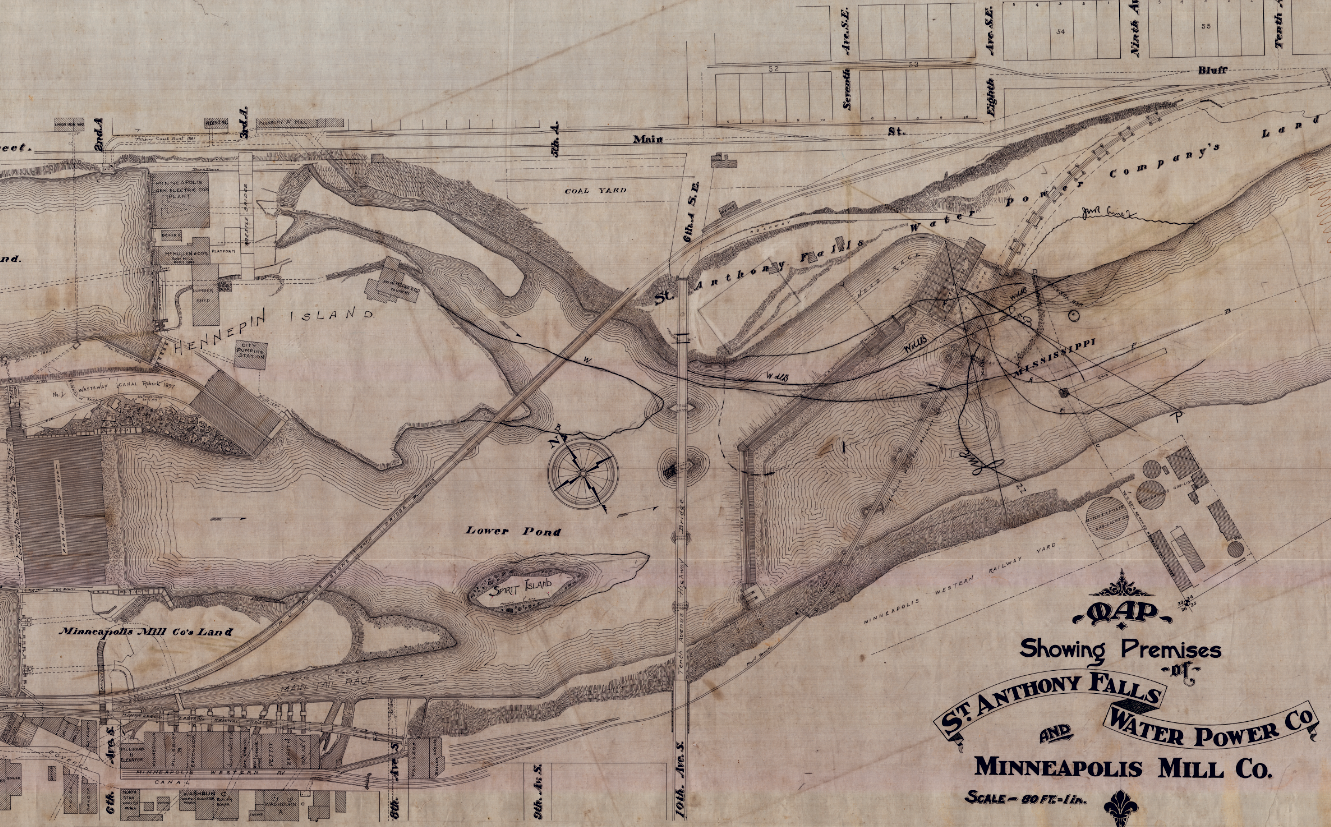 It's map Monday. Today, we have an interactive mapping application built by former Historyapolis intern–and current graduate assistant at the Borchert Map Library–Kevin Ehrman-Solberg.
This web map digs deep into the buried history of the Minneapolis riverfront. While residents readily embrace the "Mill City" moniker, that celebration is usually limited to the surface remnants of the city's industrial heritage. The flour mills lining the river corridor get the narrative glory. These stately structures are undeniably impressive. Both the Pillsbury A-Mill and the Washburn A-Mill (now Gold Medal Flour), are deservedly two of the most recognizable Minneapolis landmarks. Yet they only tell part of the story.
A complicated system of buried canals, headraces, and tailrace tunnels honeycomb both sides of the river and powered the 19th century milling districts. These networks are the unsung hero of Minneapolis' days as the flour capital of the world. Hewed into the soft St. Peter sandstone by pick-axe wielding laborers, these tunnels turned St. Anthony Falls into a municipal power plant.
The system relied on three parts. "Headrace" tunnels diverted water from the river above the falls to the various mills. This water then gushed into a series of drop shafts. Massive turbines—the ones installed under the Pillsbury A Mill in 1881 were the largest in the world—were placed in these shafts to harness the power of the falling water. Finally, the spent water flowed back to the river below the falls through a "tailrace" tunnel.
This app attempts to illuminate the importance of these underground networks. You can click through the numbered tabs for a guided tour of the Minneapolis underworld, or simply explore the application yourself!
---
Images are from the Pillsbury A Mill Tunnel Historic and Engineering Condition Study. The application was built in collaboration with the Borchert Map Library. The 1897 map used in the application was provided courtesy of the Hennepin County Historical Society. Digital copies are hosted by Borchert. Other sources include: "River of History: A Historic Resource Study of the Mississippi National River and Recreation Area," and "Map of the Minneapolis Manufacturing District, 1880."
Comments
comments