City planners considered Cedar Riverside "blighted" by the 1940s. While it escaped the wholesale demolition visited on the Gateway and the near North Side, this area would undergo a massive transformation in the 1950s thanks to declining immigration and an expanding University of Minnesota. The arrival of the modern freeway system sliced this enclave of immigrant businesses and bars into urban islands, cut off from downtown by fast-flowing rivers of cars.
In this transformed urban environment, buildings once central to community life were stripped of their earlier meanings. Houses of worship like the one pictured here–whether church or synagogue–were robbed of their earlier meaning as congregations dwindled and died. Once sacred walls broadcast new messages. Visit South Side Junk Yard. Dial R-A-W-B-E-E-F for home liquor delivery.
While churches became billboards, once-thriving neighborhood commercial establishments were transformed into new sites for worship.This neighborhood store at 6th and 16th Avenues advertised itself as an "Interdenominational Gospel Chapel" with daily services at 8pm.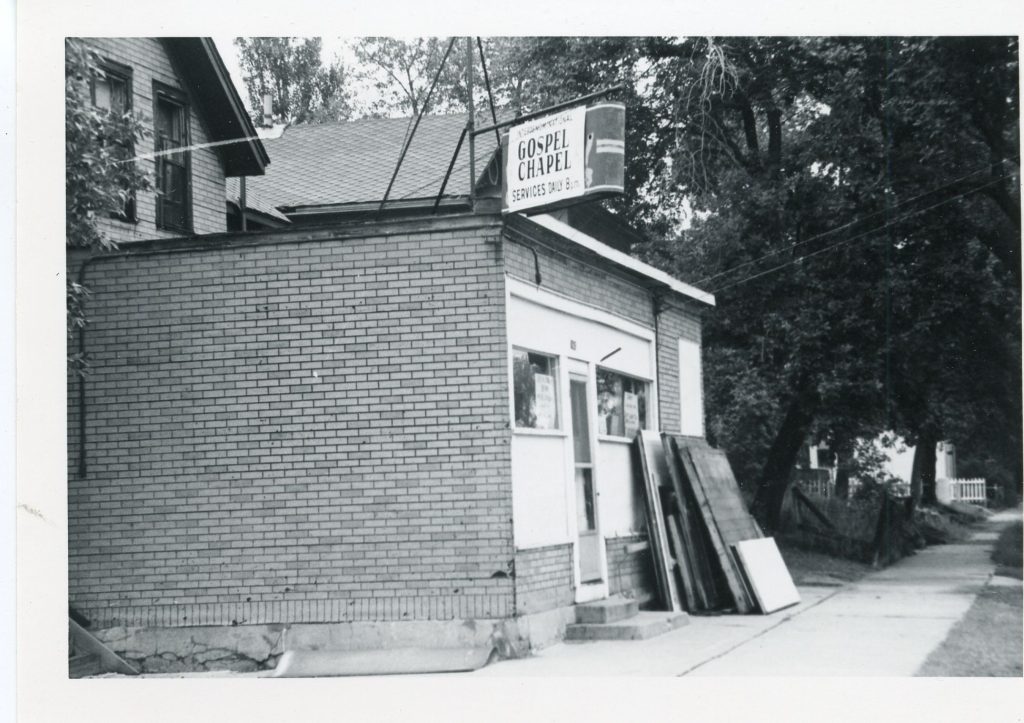 Shoppers can still dial R-A.W-B-E-E-F (729-2333) for "fast and friendly service" at Skol Liquors, which remains in business at the corner of 27th Avenue South and East 25th Street, an area once known as the "Hub of Hell."
Photos are from the city planning photo collection at the Tower Archives, Minneapolis City Hall. Thanks to data manager Bob McCune, Historyapolis intern Anna Romskog and citizen-researcher Rita Yeada for making these images accessible.