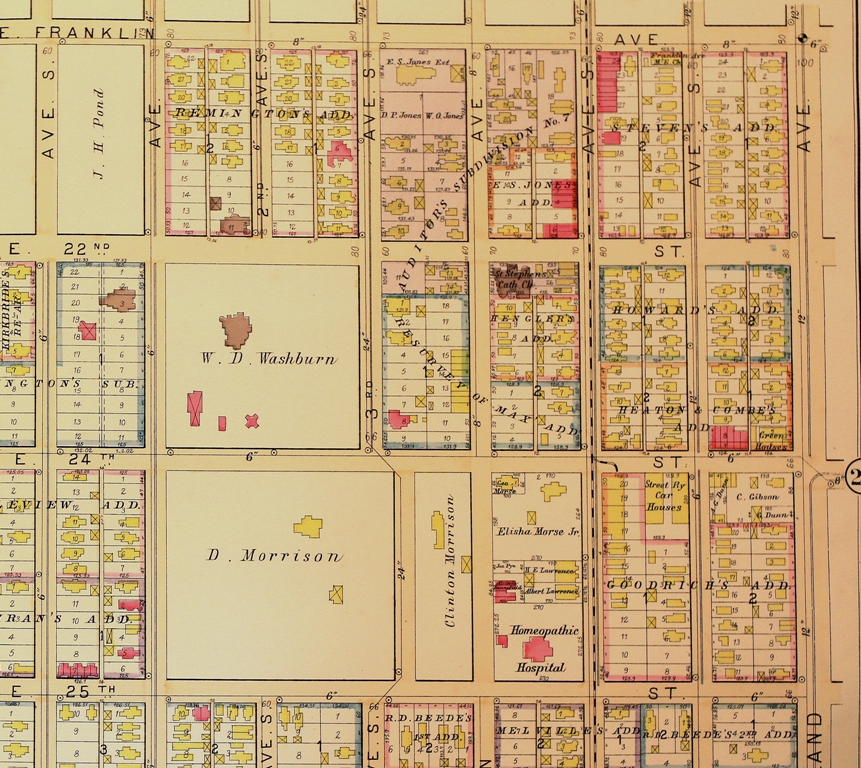 It's map Monday. And here we have another plate from the 1892 C.M. Foote & Co real estate atlas. This page shows the blocks now occupied by the Minneapolis Institute of Arts and the Children's Theater. When this map was made, this corner of the city was dominated by opulent mansions inhabited by some of the city's wealthiest families.
The grandest of these domiciles was "Fairoaks"- which this map shows as a brown blob in the square marked "W.D. Washburn." Built at the height of the Gilded Age, Fairoaks was a monument to the excesses of that epoch. This million dollar edifice was more palace than home. Its walls were lined with tapestries and covered with mosaics, stamped leather and woodwork of every variety: ebony, cherry, English oak, rosewood, Circassian walnut and Bird's-eye maple. Its fireplaces were onyx; its floors marble. Stained glass filtered light in the library; an elevator delivered guests to the billiard room. Eight members of the Washburn family shared 14 bedrooms, at a time when most Minneapolitans crowded into a handful of rooms with loved ones or even strangers. The 10-acre park surrounding the mansion was  designed by Frederick Law Olmsted, who laid out New York City's Central Park.
Fairoaks was the folly of William D. Washburn, a native of Maine who made a fortune in flour milling and banking. His Soo Line railroad allowed Minneapolis flour to reach eastern markets, helping to make the Mill City into a nationally-known commercial powerhouse. Washburn later parlayed his commercial success into political power, representing Minnesota in both houses of Congress.
Six Washburn children lived into adulthood. None chose to occupy the city's most lavish abode. Two years before his death, the industrialist donated his estate to the city of Minneapolis, in the hopes it could become a municipal art museum. When the Minneapolis Institute of Arts was constructed across the street in 1915, the city was left wondering what to do with the mansion that demanded constant maintenance. Demolition crews were summoned in 1924; Fair Oaks Park now stands on the site of the Washburn mansion.
None of this information about Washburn or Fair Oaks can be surmised from this map. But this cartographic source provides other insights into the city at the end of the nineteenth century. The Washburn estate stood in close proximity to the Homeopathic Hospital, an institution unfamiliar to me until I saw this grid. A wonderful master's thesis written by Mary Wittenbreer described the popularity of this branch of medicine in Minneapolis during the 1880s, when the Washburns provided financial support to this institution, which bordered their estate. Homeopathy proved especially popular among women, who became well-versed in mixing tinctures and other homeopathic remedies for a variety of ailments afflicting their families. The homeopathic medical community in Minneapolis played an important role in the development of the city's first maternity hospital, which was for a time located on this same block.
This plate from the Foote Atlas was scanned for Historyapolis by Bill Wittenbreer, brother of the thesis writer above.
Information about Fairoaks is taken from Larry Millett's Once There Were Castles. Medical history was provided by Mary Wittenbreer, " A Woman's Woman: A Woman's Physician the Life and Career of Dr. Martha G. Ripley," (M.A Thesis, Hamline University): 1999.
Comments
comments