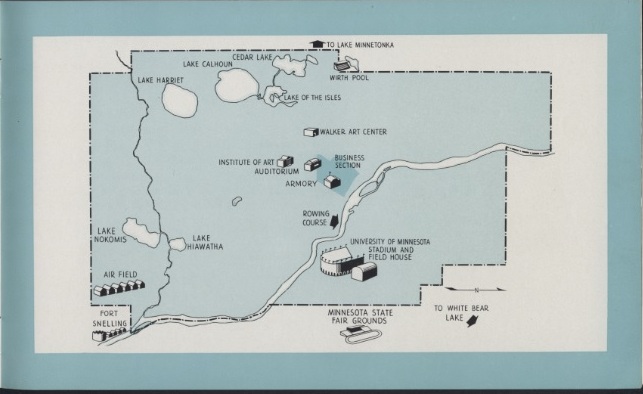 It's map Monday. At the end of World War II, a group of Minneapolis businessmen formed the Olympic Invitation Committee of Minneapolis, which put together a bid to host the 1952 summer Olympics. The lovely brochure they printed in English, French and Spanish included this map, showing all the facilities in Minneapolis that could be used for Olympic events. "It shows," the accompanying text explains, "the relatively small area in which they are concentrated. Officials, athletes and spectators can, therefore, reach any location with ease and speed."
Note the icon for the "airfield." This was the Wold-Chamberlain Field barracks, which the Minneapolis organizers touted as a "potential Olympic village," describing this facility as:
"Sixteen barracks which will house 4,350 athletes
Recreation hall adjacent to barracks
Occupied during the war by United States naval air training unit
Location: Twenty-five minutes from Minneapolis business district"
However primitive, conditions at the former airfield were undoubtedly better than those in Sochi, Russia today, where journalists describe hotels with no heat, running water or doorknobs.
This brochure from the Olympic Invitation Committee of Minneapolis can be located in the vertical files in the Minneapolis Collection at the Hennepin County Central Library.
Comments
comments