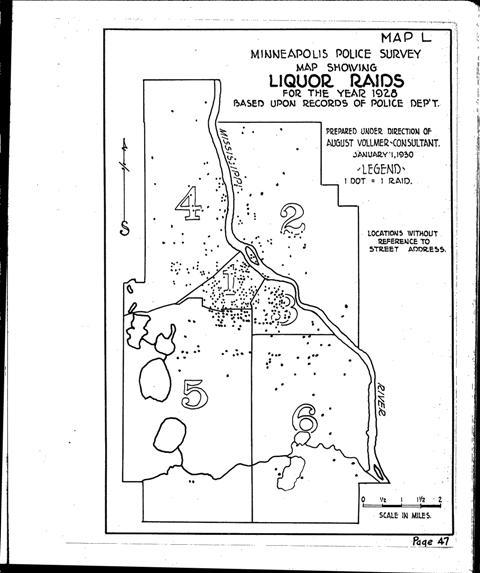 It's map Monday. This diagram shows liquor raids in Minneapolis during 1928. The data for this info-graphic was collected at the height of Prohibition, eight years after the Volstead Amendment banned the sale and consumption of liquor in the United States.
This map was published as part of a Minneapolis police survey compiled in 1930 by August Vollmer, who was known as the father of American criminology. As chief of police in Berkeley, California, Vollmer developed systems of record-keeping and training that were adopted throughout the United States.
This diagram shows police liquor raids clustered in the old Gateway neighborhood on the banks of the Mississippi River. This was the heart of the liquor patrol district. Enshrined in the city charter in the 1880s, this ordinance required bars and liquor stores to be concentrated in select parts of town, with the rationale that police could more easily control liquor-fueled crime if all of these types of businesses were in one place.
A constitutional ban on alcohol did little to slow the consumption of liquor in the Minneapolis Gateway. "Drinking  and the sale of alcoholic beverages never really stopped in the Gateway," historian David Rosheim concluded in his history of the neighborhood. "It probably never even paused."
After the Volstead Act, Gateway saloons were converted into "soft-drink bars," which supposedly limited their offerings to sandwiches and soft-drinks. The Salvation Army was the first to open this kind of establishment; it was probably the only one in the neighborhood to limit its patrons to root beer. Most Gateway soft-drink bars made their money from moonshine and prostitution. And they came under the control of local bootleggers, who worked with the police department's Purity Squad to ensure they could operate without interference. This system of payoffs was described by Paul Ferrell, who described the Minneapolis Gateway of the 1920s in his memoir Michigan Mossback. Ferrell does not paint a flattering view of the Mill City.
Vollmer's liquor raid map does sheds little light on the actual consumption of alcohol in Prohibition-era Minneapolis. At best, it illuminates which establishments were late on their required payments to the Purity Squad.
The liquor patrol limits were rescinded in 1974, though it is still difficult in Minneapolis to get a liquor license or serve liquor outside of these historic limits.
Map is from the Minneapolis Police Survey, which is held in the Hennepin County Special Collections at the Central Library.
Comments
comments