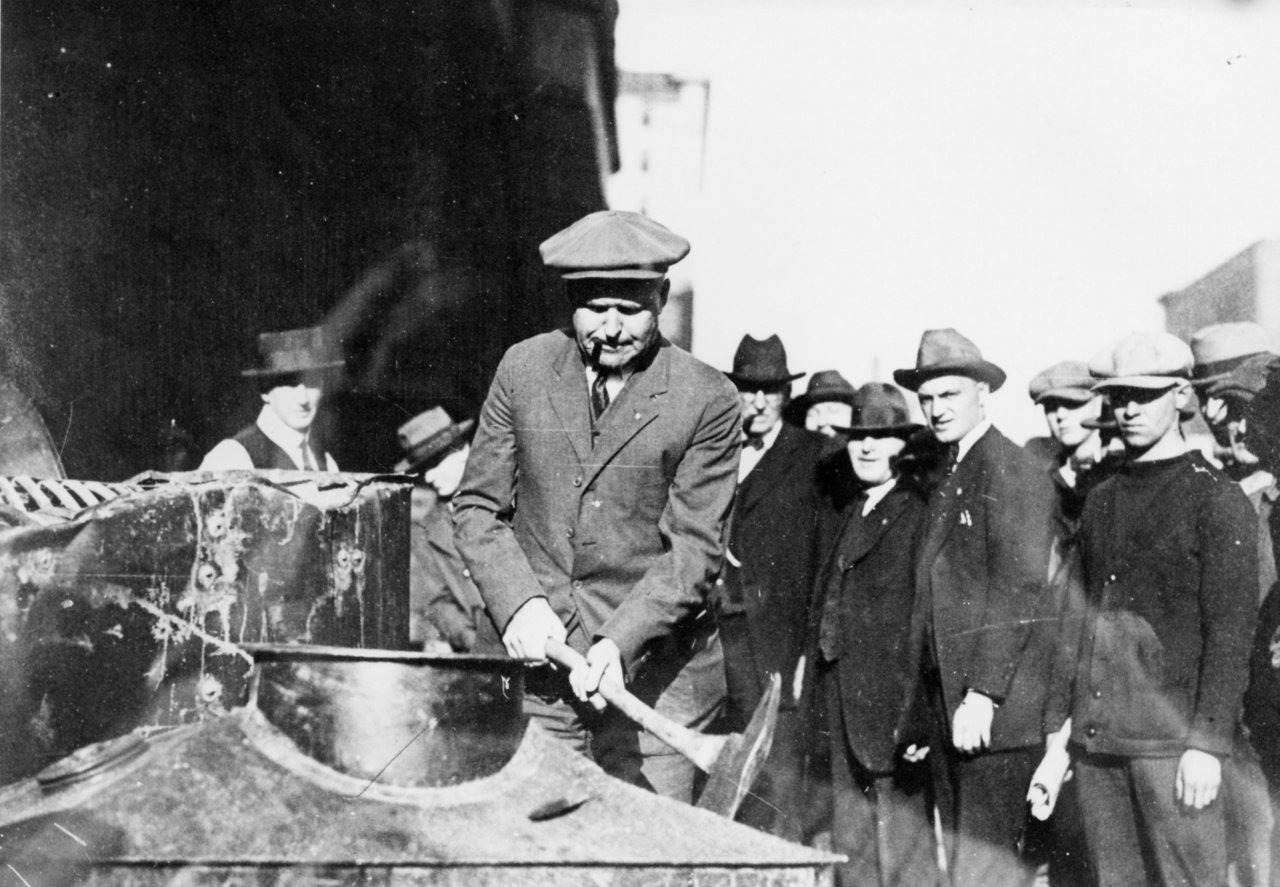 Today's blogger is Heidi Heller, a senior history major at Augsburg College and an intern with the Historyapolis Project.
As part of our continuing homage to Oktoberfest, today we continue the saga of beer brewing we began on Monday. For a map and early history click here.
Brewing in Minneapolis peaked between the 1870s to the 1890s, when beer manufacturies multiplied. Entrepreneurs were eager to profit from the growing demand for beer from in the growing city, as saloons, hotels and gaming halls proliferated. Yet few of them could actually figure out how to profit from what seemed to be a golden opportunity. The smaller enterprises could not compete with larger operations. And these larger companies found themselves facing new threats from international brewing syndicates, which saw the profits they could make in the American market.
In the interest of survival, larger brewers sought to pool their resources. The biggest merger occurred in July 1890 when four breweries – John Orth Brewing Company, Heinrich Brewing Association, F.D. Noerenberg and Germania Brewing Association–became one. The new company was known as the Minneapolis Brewing Company and in 1897 consolidated all its operations into a new brewery located near the Orth Brewery on Marshall St NE. In the years after the merger, Grain Belt Beer would become the flagship brand for the company. In 1967,  the company would change its name to Grain Belt Breweries, Inc. This image, from the Hennepin County Library Special Collections, shows the brewery in 1941.
Even the biggest breweries soon found themselves under siege from an increasingly powerful temperance movement, which was determined to ban alcohol. When Prohibition became law in 1920, beer was outlawed, along with all other alcohol. The photo at the top of this page shows Hennepin County Sheriff Earle Brown smashing an illegal still. Despite this show of government force, illicit producers benefited from Prohibition. But the city's history brewing industry was brought to its knees.
The few remaining small breweries closed. And the brewing behemoths–namely the Minneapolis Brewing Company and Gluek–were forced to shift their operations to the production of near beer and soft drinks.But these new products did not generate enough profits. Gluek stayed afloat thanks to its owners' diverse business ventures. After changing its name to the Golden Juice Company, the Minneapolis Brewing Company shuttered its doors in 1929.
When prohibition finally ended in 1933, both Gluek and the Minneapolis Brewing Company immediately resumed production of beer. But in the depths of the Great Depression, no other brewing entrepreneurs materialized. The Minneapolis brewing industry was just a shadow of its former self.
By the 1960s and 1970s, this skeletal brewing industry was further weakened by national competition. Local brewers found they were unable to keep up with technological advances and production costs. Gluek Brewery was sold to G. Heileman Brewing in Wisconsin and closed in 1964 after 107 years and Minneapolis' oldest continuously operated business. The Gluek Brewery was demolished in 1966 to make way for the Northwestern Corrugated Box Company. The Grain Belt Brewing Company also was sold to G. Heileman Brewing and closed its northeast Minneapolis plant in 1975.
The building still remains a landmark in northeast and has been converted to offices and other modern uses.  Grain Belt brand returned to Minnesota in 2002 when the August Schell Brewing Company of New Ulm purchased the recipe and label.
Between 1986 and 2005, the James Page Brewing Company operated and laid the foundation for the boom in craft beer industry that emerged in the early 2000s. Today Minneapolis is once again home to a thriving brewing industry with fourteen breweries and brew pubs throughout the city.
Images and Sources: Images are from the Minneapolis photo collection at the Hennepin County Library Special Collections, Michael R. Worcester, "From the Land of the Golden Grain: The Origins and Early Years of the Minneapolis Brewing Company," Hennepin History Magazine, Fall 1992, Michael Worcester, "John Orth: Hennepin County's Pioneer Brewer," Hennepin History Magazine, Spring 2006, Roland C. Amundson, "Listen to the Bottle Say "Gluek, Gluek, Gluek," Hennepin History Magazine, Winter 1988-1989. Doug Hoverson, Land of Amber Waters: The History of Brewing in Minnesota, Minneapolis: University of Minnesota Press, 2007. "Ale, yeah! Minnesota named the No. 10 craft beer state," http://www.twincities.com/ci_23694801/ale-yeah-minnesota-becomes-no-10-craft-beer , "The future of Minnesota's craft beer scene," Minnesota Public Radio, http://www.mprnews.org/story/2014/05/30/daily-circuit-friday-roundtable-beer, Minnesota Craft Brewers Guild, http://www.mncraftbrew.org/brewcations.
Comments
comments